About
Sakile Johnson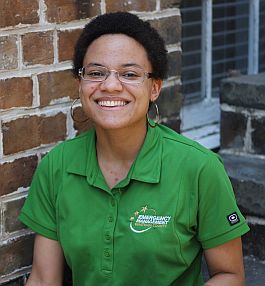 Sakile Johnson is an Illinois native with a bachelor's in Biology from Armstrong State University, now Georgia Southern and a masters in Marine Science from Savannah State University. She has several years of volunteer and outreach experience and specializes in communication and scientific outreach. She is currently joining CEMA as their newest Americorp VISTA for a service term extending from May 2021 to May 2022. Her primary responsibilities are organizing and preparing outreach events and presentations.
Before beginning her Americorp service, Sakile worked at Armstrong State University as a research assistant in their Sustainable Aquaponics Research Center where she studied the impact of oxygen circulation on the common basil plant and helped maintain the facility in both a volunteer and then paid position. Sakile would later present this research at the ASB (American Southeast Biologist) Conference in 2018. During the rest of her undergraduate career she would work as a peer mentor for freshmen entering the college of science and technology and volunteer in multiple organizations including but not limited to Active Minds and PEP (Peers Educating Peers).
After receiving her bachelors in biology, she then studied fish ecology at Savannah State University for her master's degree. She submitted her thesis for publication and then graduated in May 2021 after 2 years of study, research, and volunteer service.
The ultimate goal of Sakile's service with CEMA is to build a stronger Savannah community that is prepared for every weather disaster.