Preparedness
Hurricane Evacuation Zones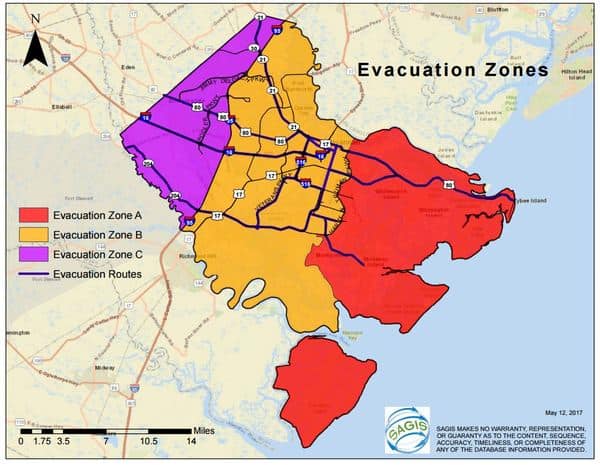 After Hurricane Matthew, there was a need for greater understanding and preparation to ensure the safe and effective evacuation of Chatham County during a hurricane or tropical storm. To better prepare for hurricane season, we are encouraging residents to learn the terminology that County officials will be using during an evacuation. Knowing the difference between an evacuation and mandatory evacuation orders will significantly affect how communities and residents will react and prepare for the threat of a hurricane.
For an interactive map on the evacuation zones, please CLICK HERE! This will allow you to type in any address in Chatham County and easily identify which zone you are in.
An Evacuation Order will be issued when local officials feel it may be in your best interest to evacuate the targeted area. An Evacuation Order is a general statement used to encourage residents to evacuate.
A Mandatory Evacuation Order is an executive directive requiring all residents, visitors, businesses and others in the target area to evacuate. Personal discretion is not an option.
In addition, Chatham County has constructed new evacuation zones to ensure an efficient exit for all communities that are in the target area. These zones are:
| | |
| --- | --- |
| Evacuation Zone A | Areas east of the Truman Parkway and the Vernon River |
| Evacuation Zone B | Areas west of the Truman Parkway, but east of Interstate 95 |
| Evacuation Zone C | Areas west of Interstate 95 |
These zones are clear boundaries that are already established in Chatham County. Residents are familiar with these landmarks and should be able to easily identify which zone they live and work in.