About
Michael Whiteaker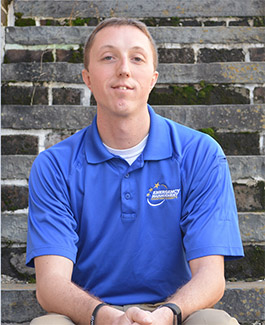 Michael Whiteaker joined CEMA in January 2018 as an Emergency Management Specialist, currently serving in the Preparedness Division.
Michael comes from a response background beginning his career as a law enforcement officer in 2008 with the Bristol Virginia Police Department. In 2011, Michael accepted a position with the Johnson City Tennessee Police Department where he spent the next four years working in various aspects of law enforcement. Perhaps the most notable was his time in the community policing unit where he was involved with a crime prevention grant program. That program not only reduced the amount of violent crime occurring in the targeted area, it led to an outstanding criminal justice program award from the National Criminal Justice Association. In 2015, Michael left the law enforcement side of public safety and accepted a position as a Firefighter/EMT with the Bristol Virginia Fire Department. It was during that time that he became involved with emergency management programs, serving a dual role as an Emergency Management Coordinator for the city.
Michael Holds an Associate Degree in Criminal Justice from Coastal Carolina Community College and a Bachelors in Criminal Justice from King University. He is also a graduate of the National Emergency Management Professionals Program Basic Academy.
Michael and his wife Cecelia currently reside in Richmond Hill with their son Caleb.