About
Jada D. Cossey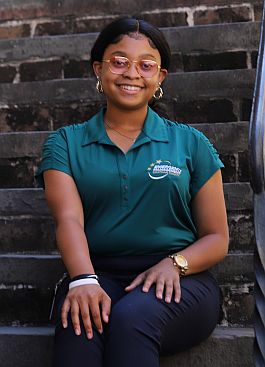 Jada D. Cossey, born and raised in Savannah, GA is our newest AmeriCorps VISTA serving as the new representative of the COVID-19 vaccine campaign.
In December 2020, Jada obtained her bachelor's degree from Savannah State University with honors Magna Cum Laude in Homeland Security and Emergency Management as the youngest in her graduating class. Jada was a part of multiple organizations on campus which included Eloquent Commitment to Helping Our Sisters, Inc., where she served as treasurer for one year, National Honor Society of Leadership and Success, and the Homeland Security and Emergency Management organization. Her commitment to each of these organizations allowed Jada to gain professional development skills, networking skills, and volunteer service.
Towards the beginning of 2020 and up until she graduated, Jada was a peer tutor at Savannah State where she had the opportunity to mentor her peers and provide guidance to undergraduate freshmen and sophomores. Now, as an AmeriCorps VISTA, she plans to make an impact by helping to build capacity throughout the community and respond to the current pandemic by providing vaccine awareness.