About
David Smith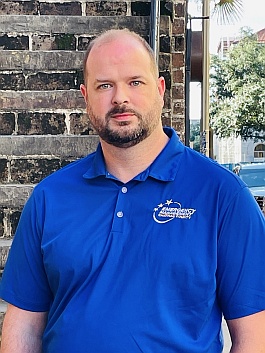 Originally from Morrow, Georgia, David Smith retired from the US Army beginning of 2023 as a Sergeant First Class (E-7) working as Senior Satellite Communications Operations and Plans Non-Commissioned Officer, having also served as a Satellite Network Controller and Instructor at points during his career.
After a few months break to catch up with family and friends, he switched gears and, July 2023, began putting his technical and military experience to use serving the Chatham County community as the Radio Technician I for CEMA.
After serving 20 years active duty, David now spends his free time trying to make up for lost time with his 2 sons and the rest of his family. His hobbies include woodworking, cooking, dad jokes, video games, reading, and playing golf very poorly.
David looks forward to each day, continuing to grow and learn and support his community. While he may not be an emergency management specialist, he is happy to apply his experience to the job and continue to support the community, because at the end of the day, if we don't support each other, then we all fall together.