About
Chelsea Sawyer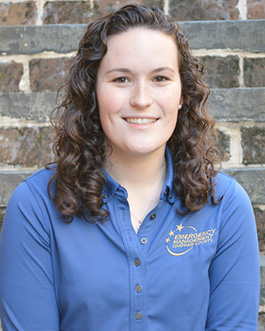 Chelsea joined CEMA in September 2016. Her primary responsibilities as the Emergency Management Coordinator in Community Outreach include organizing and presenting public awareness campaigns as well as recruiting, training and supervising the Agency's volunteer workforce. In March 2019, Chelsea earned the Basic Georgia Certified Emergency Manager (Ga-CEM) designation and became the fourth member of CEMA to hold the title of Ga-CEM.
Prior to joining CEMA, Chelsea was employed by the American Red Cross of Southeast and Coastal Georgia where she was responsible for the recruitment and sustainment of the volunteer program for thirty-seven counties in the southern half of Georgia.
Chelsea is originally from Virginia and attended Virginia Tech before moving to the south with her husband, Seth. Chelsea earned her Masters of Public Administration and Policy and her Bachelor's Degree in Political Science and Sociology. While a full time student, Chelsea spent several years working with, and alongside, many volunteer and non-profit organizations developing their capacity through volunteer involvement. Specifically, Chelsea served as the Director of AWARE, a middle school mentoring program and was the Training Lieutenant and member of the Southwest Virginia Mountain Rescue Group, a state search and rescue team.