News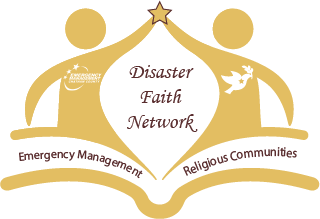 Are you a member of a Chatham County House of Worship or Faith-Based Organization? If so, you are invited to join the Chatham County Disaster Faith Network!
CEMA created the Disaster Faith Network (DFN) within Chatham County to serve as a coalition of Faith-Based organizations. The Chatham County DFN helps meet the immediate and long-term needs of our community when we have been affected by a disaster. The vital connections between Faith-Based organizations and CEMA helps oster a whole community relationship and enhances communication and coordination, emergency preparedness, and response and recovery operations. It is our hope that through this coalition, the Chatham County Disaster Faith Network will strive to make Chatham County a more disaster resilient community.
To join the DFN, we ask that you complete a brief survey (link below and HERE) so that we can begin our relationship and help determine how we may be able to provide services and support to your House of Worship. In addition, we want to know how your organization may be able to assist Chatham County residents in their preparedness for and response to an emergency event or disaster. If you have filled out a survey with our office before, we ask that you still take a moment to complete this survey so that we have the most up to date information from your organization and ensure that you are included on all future emails and notifications.
DFN Survey Link: https://forms.gle/RpxbhMuCpA9rYGrz5
Upcoming Workshops:
Faith-Based Preparedness Summit
October 26, 2023 8:30 am- 3:30 pm
The Chatham County Disaster Faith Network presents the annual Faith-Based Preparedness Summit. This full-day event, held at Coastal Georgia Botanical Gardens, will provide critical resources for Houses of Worship and Faith-Based Organizations within Chatham County. You will not want to miss this incredible, free, training opportunity. CLICK HERE to Register!
Registration Link: http://events.r20.constantcontact.com/register/event?oeidk=a07ejxd6t7g7a65fe26&llr=5ovauneab
Faith-Based Preparedness Summit Schedule:
October 26 – Coastal Georgia Botanical Gardens (2 Canebrake Rd. Savannah, Ga.)
8:30-9:00 Registration and Breakfast
9:00-9:15 Welcome and Introductions
9:15- 9:45 Disaster Faith Network Program Guide Overview and Support Opportunities
9:45-10:15 Power Talks
An opportunity to create conversations about specific topics. Topics will be listed on the table and allow people to self-select into the topic of their choice. Got an idea? Let us know!
10:15-10:30 Break
10:30-11:30 Session 1:
De-Escalation Role Playing Exercise – Mediation Center of the Coastal Empire
11:30-12:00 Lunch and Fellowship
12:00-1:00 Understanding the Opioid Epidemic- How Houses of Worship Can Support Law Enforcement and Those Suffering Addiction
1:00-1:15 Break
1:15-2:15 Session 2:
Getting Your House of Worship Involved- CEDRC (Coastal Empire Disaster Recovery Committee) Agency Panel
2:15-2:30 Break
2:30-3:30 Session 3:
Re-Thinking Homelessness by Engaging the Faith Community
3:30 Adjourn