Community

Disasters are occurring at an alarming pace and causing millions of dollars in damages. In September, Chatham County narrowly missed devastating impacts as Hurricane Dorian skirted along our coastline. Did you know that during a disaster 60% of individuals affected turn to the religious leader for guidance? Come and join us on Friday, October 18th at the Armstrong Center for the 2019 Chatham County Faith-Based Emergency Preparedness Summit. This year's event is all about networking! Come and take part in a day of preparedness, learning valuable skills from leading professionals in emergency management. Learn about initiatives already taking place in Chatham County as well as new skills that will assist in our endeavor to make Chatham County Disaster Resilient!
---
Interested in Attending?
---
Schedule of Events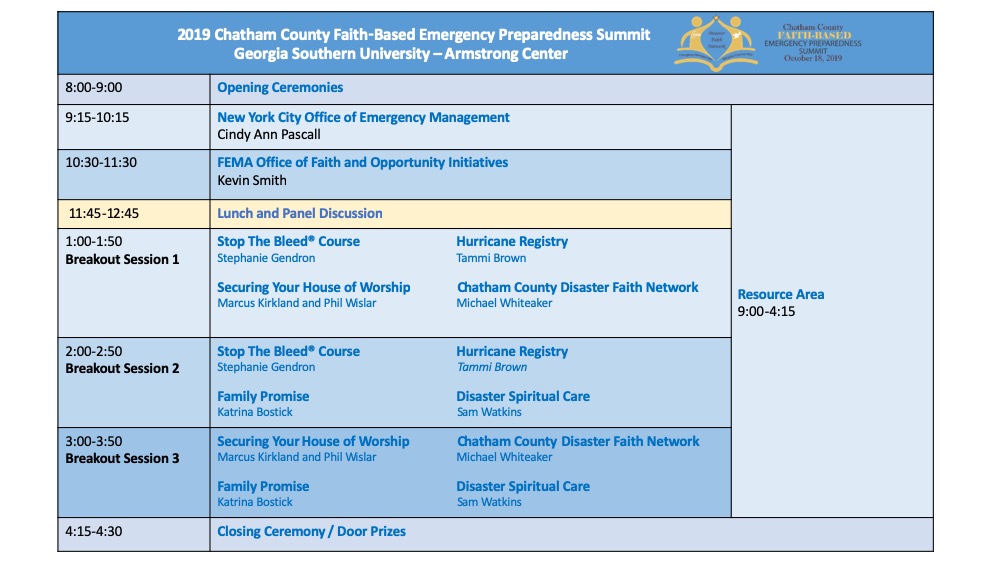 ---
On-Site Registration and Check-In
This one stop answer shop will be open all day. Attendees can register on site, but may not be guaranteed lunch if you do not pre-register.
The event is happening at the Armstrong Center, which is owned by Georgia Southern University. 11935 Abercorn St., Suite 16, Savannah, Ga. 31408. Parking at the Armstrong Center is FREE!
---
Resource Area
The Resource Area will include several non-profit and Faith-Based organizations that provide services. Be sure to take a few minutes to stop by their tables and chat with them about what they provide and how your House of Worship can get involved!
---
Disaster Faith Network Survey
CEMA, in collaboration with local Faith-Based Organizations, are working to leverage community resources to ensure a coordinated, whole-community response to an emergency or disaster. Take a few minutes to fill out our survey and help us help the Chatham County community! Click Here to Begin the Survey.
---

Thank You to our sponsor, Georgia Southern University, for their support!