Community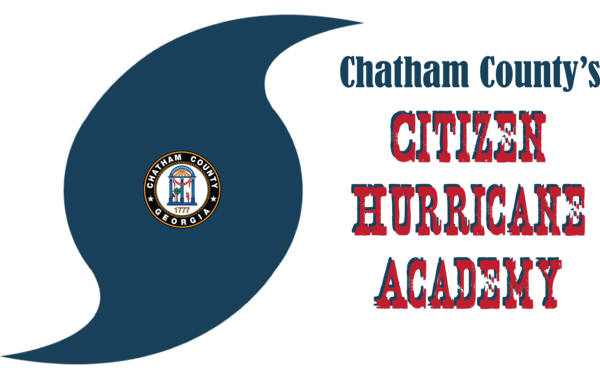 Chatham County's Citizen Hurricane Academy is an opportunity for residents to learn from the experts and better prepare for the threat of a hurricane or tropical storm. This FREE event will allow Chatham County residents to attend multiple classes on potentially life-saving information. This year, we are collaborating with Memorial Health to create a fantastic experience for our residents including a Children's Workshop from 9:30 am-12:15 pm for children age 5-13. 
---
Interested in Attending?
---
Schedule of Events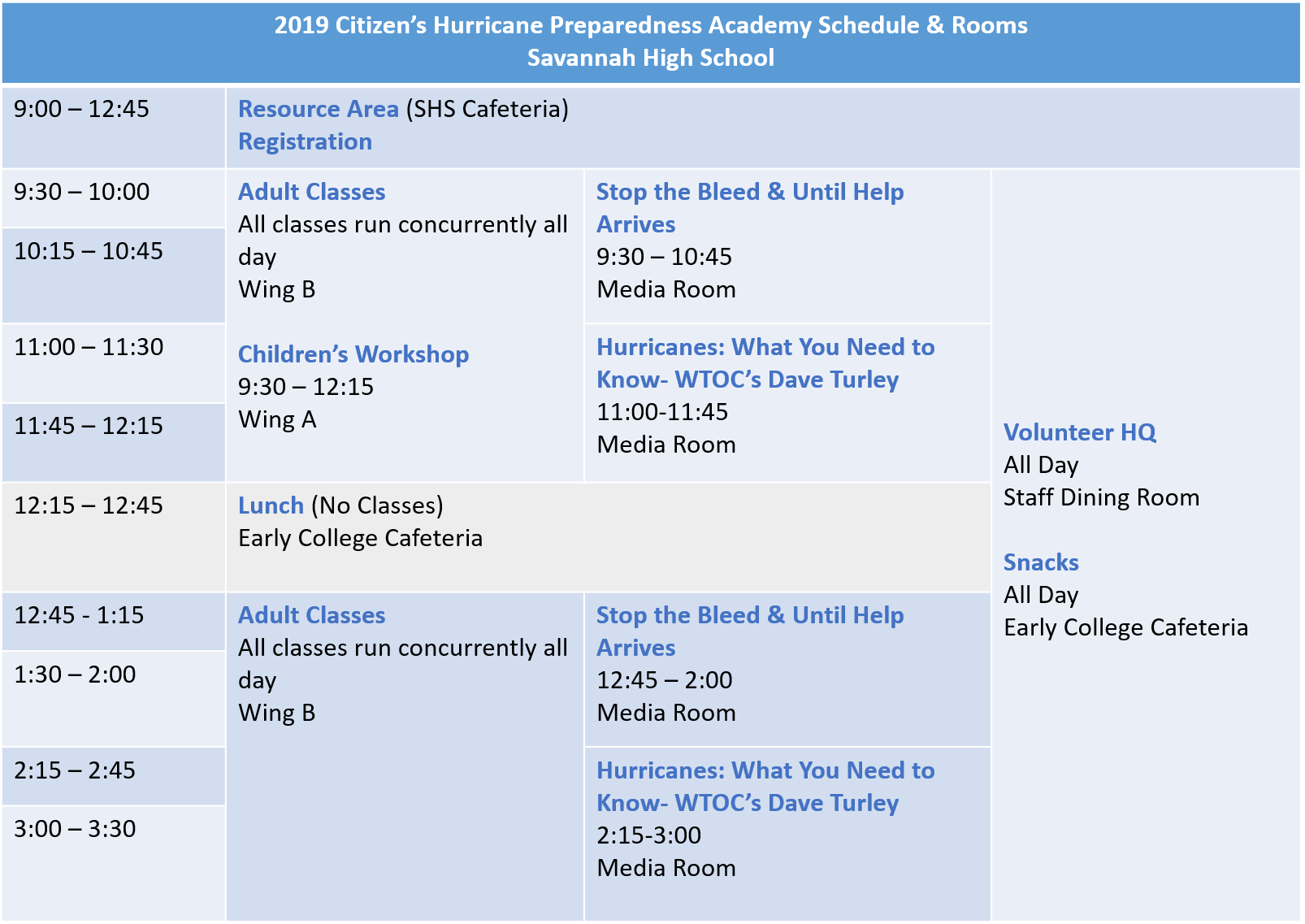 Important Notice
Classes run for 30 minutes and each class is repeated every session throughout the day with the exception of Stop the Bleed/Until Help Arrives, which is only taught twice.
---
On-Site Registration and Check-In
This one stop answer shop will be open all day. Attendees can stay as long as they would like and attend any classes they find interesting.
---
Resource Area
The Resource Area is held in the Savannah High School lunch room and is a great place to find information on disaster preparedness and meet organizations that help individuals prepare before and recover from a disaster. Take a few minutes to look around and meet with these important agencies.
---
Children's Workshop
Do You Have A Child Age 5-13?
Consider registering your child to attend the Children's Workshop from 9:30 am - 12:15 pm ONLY! Children must be age 5-13 to particpate and parent/guardian must be on site throughout the event.
While you are learning how to prepare your entire family, your child could be learning important lessons about disaster coping skills, how to create their own disaster supply kit, how hurricanes form and understanding severe weather! Child-life experts from the Memorial Health Dwaine & Cynthia Willett Children's Hospital of Savannah will host this workshop and share potentially life-saving information with your child.
---
Class Schedule and Descriptions
Classes run for 30 minutes and each class is repeated every session throughout the day with the exception of Stop the Bleed/Until Help Arrives, which is only taught twice.
| Class Title | Instructor | Class Description |
| --- | --- | --- |
| The Science Behind Hurricane Evacuation Decisions | Bob Bright, National Weather Service | "Meteorologist Bob Bright from the National Weather Service in Charleston will be here to provide several hurricane workshops throughout the day. A variety of topics will be covered including the science behind tropical cyclones, how the National Weather Service produces the forecast, and how they provide decision support services to help the emergency management community protect lives and property during such storms." |
| Hurricanes: What You Need to Know and How to Stay Informed | Dave Turley, WTOC | Meteorologist Dave Turley from WTOC will discuss the ins and outs of hurricanes and what you need to know about the 2019 season. In addition, Dave will cover how the First Alert Team can keep you informed throughout hurricane season, and beyond. |
| Hurricane Preparedness: Are You & Your Family Ready? | Chelsea Sawyer, CEMA | Storm Surge, Wind Damage and Flooding, Oh My! Hurricanes and Tropical Storms can certainly wreak havoc on our coastal community. This session will cover some of the specific hazards that face Chatham County during a tropical cyclone and discuss how you can better prepare your family for an evacuation or to shelter in place. |
| Evacuation Resources For Those That Need It Most – The Hurricane Registry | Tammi Brown, Department of Public Health | This session will discuss The Hurricane Registry. What is it?, Who Qualifies?, How do I sign up?, Where will I go?, What should I bring?, How much does it cost?. We will discuss the answers to all these questions and also discuss what happens during an evacuation for those on the Registry |
| Preparing Financially For a Disaster | Kathryn Stoklosa, Consumer Credit Counseling Service | Make a plan to safeguard your financial future in the event of a disaster. Give yourself peace of mind by preparing your finances and records in case of an emergency. Learn about steps you can take ahead of time so you can start the recovery process without delay. |
| Understanding Your Flood Zone and Your Risk | Michael Blakely, Chatham County Engineering | Be sure to stop by the Floodplain Management class while attending the Citizen Hurricane Academy. The session will be manned by two experienced Certified Floodplain Managers, Tom McDonald, CFM with the City of Savannah and Michael Blakely, CFM with Chatham County. While there, attendees will learn practical and useful information including the flood risk they live in, how to protect their family and property from flooding, and how a simple renovation project can adversely impact your flood insurance policy and mortgage payments. So come visit our session armed with your questions about home construction and the flood zones maps, plus learn how to receive discounts on flood insurance policies. Remember, if you live where it rains, you can be flooded. Are you prepared and protected? |
| Hands-Only CPR | Donna Scott, Memorial Health | Ah, ha, ha, ha, stayin' alive! Learn how to perform Cardio Pulmonary Resuscitation without rescue breaths, and with a little help from the Bee Gees, so you can help save a life. With 70 percent of all out-of-hospital cardiac arrests happening at home, if you're called on to perform Hands-Only CPR, you'll likely be trying to save the life of someone you know and love. Hands-Only CPR carried out by a bystander has been shown to be as effective as CPR with breaths in the first few minutes during an out-of-hospital sudden cardiac arrest for an adult victim. This session will teach you how to take action during a cardiac emergency. |
| Stop the Bleed/Until Help Arrives | Stephanie Gendron, Memorial Health and Michael Whiteaker (Seth Sawyer) CEMA | Learn how to be the help until help arrives! Stop the Bleed is a hands on class that teaches you basic techniques of bleeding control so you can make a difference in the case of a life-threatening emergency. The class teaches three simply ways to stop major bleeding and how to use bleeding control supplies. |
| Children's Workshop | Lauren Holley, Memorial Health | Children age 5-15 are invited to join us for the Children's Workshop. Learn about what a hurricane is, creating a family emergency plan, packing an emergency kit, what to expect with an evacuation, and more! The Children's Workshop is brought to you by The Memorial Health Dwaine and Cynthia Willett Children's Hospital of Savannah. |
---

Thank You to our sponsor, Memorial Health, for their support in planning this year's event.