About
How would you like to help your community during an emergency or disaster?  What about the chance to work alongside public safety officials during a countywide crisis?  The Chatham Emergency Management Agency is currently seeking volunteers to work in the Emergency Operations Center (EOC).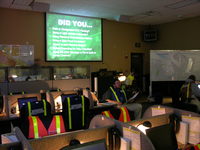 The EOC is a central location where public safety leaders and decision makers work together in support of incident response and recovery operations.  It is responsible for strategic overview, or the "big picture" of an incident.  The EOC can often be a fast paced environment and needs a variety of people to support operations.
CEMA needs dedicated and enthusiastic people to serve as phone operators, general recorders, display processors, reproduction specialists, situation recorders and clerical and administrative assistants.  Training will be provided and a background check on volunteers will be conducted after selected. 
Call 912-201-4500 for more information.